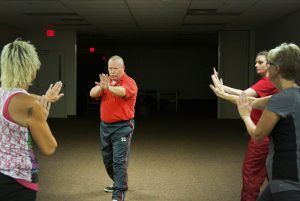 The Rape Aggression Defense (R.A.D.) system of self-defense is free to the public and for women only. A maximum of 12 students are admitted to a nine hour course that spans for three days. The R.A.D. system began in the late 1980s, and today over 900,000 women have attended the R.A.D. Basic Physical Defense Program in the U.S. and Canada. The London Police Department began teaching R.A.D. courses free of charge in the year 2000.
"I found the techniques very practical, not complicated...They were good, straight-forward, basic moves that, if you practiced, would become instinct." - Pam Martin

"Every woman needs to know this, and every girl needs to know this." - Rachel Johnson
To schedule a course for your business, organization, or group you may contact our Public Relations at (606) 878-7004 or fill out the form below. Once submitted, you will be contacted by our R.A.D. coordinator. Our R.A.D. Instructors include Capt. Darrel Kilburn, Ofc. Kenny Jones, Ofc. Mike Holiday, and Ofc. Ashley Wampler.
Learn more about R.A.D.Women's Self Defense