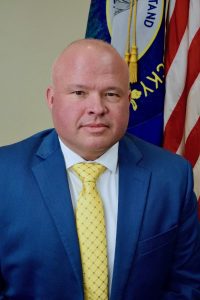 A 28-year law enforcement veteran who began his full-time career at the London Police Department in 1998 returned as chief in 2023.
Chuck Johnson was introduced as chief at the London City Council meeting Monday night. "Chuck has a long history in law enforcement and we think he's going to be a great asset to our police department," Mayor Randall Weddle said.
Johnson worked as an officer with the LPD for four years, before being accepted into the Kentucky State Police in 2002. He worked at the KSP for five years. From 2007 until December 31, he served in a variety of capacities with the Laurel County Sheriff's Department, most recently as major/chief deputy.
"It's such an honor to lead this department, to help move it forward to become the top notch department I know it can be, and will be," Johnson said. "I've always had a fondness for the LPD. It's where I started my career."
Johnson said his experience at different police agencies has prepared him to take leadership roles.
"Working with different departments, officers and supervisors from all over the state. I learned a lot from those experiences," he said. "I took the things that made the good supervisors successful, and I implemented those into my management style. I even learned from the bad supervisors, to make sure I didn't do those things."
Johnson said his primary goal as police chief is to have a proactive approach to law enforcement. He also wants his officers to project professionalism and integrity in all aspects of their work.
"I want our officers to be out on the community, out in the apartment complexes and interacting with the public," he said. "That's how you build a rapport, and also how you find violations. About 75-85 percent of all crime is drug related. The war on drugs may be endless, but it's a battle we need to keep fighting, especially now that fentanyl is killing people left and right. We're going to be proactive in our drug enforcement."
Johnson said he plans to be visible in the community himself, saying he's "working hard to get things rolling administratively so I can get out of the office and do police work. I still enjoy police work."
During a meeting with the entire police department on Tuesday morning, Johnson said the officers will receive all the training, equipment, support and leadership necessary to mold them into a police department that's respected across the state.
"Just as important, I want to make sure the officers know I stand with them, in front of them and behind them," he said. "I will be working hand-in-hand with them. I won't be leading from the sidelines. They will not outwork me, and I won't ask them to do things that I'm not willing to do."
Johnson, who is a lifelong Laurel County resident, comes from a law enforcement family. His father, Charlie Johnson, began his career in the 1960's as a fingerprint clerk for the FBI. He currently serves as a school resource officer with the sheriff's department.
His wife, Sharon, is the daughter of former Laurel County Sheriff Gene Hollon. They have five children and one grandchild.
"My family has always had the desire to serve the community," he said