LONDON, KY— The London Police Department arrested two Texas fugitives, Michael A. Pihota and James Baker, while investigating a burglary on Monday, August 10th at 3:30 a.m. on west Hwy. 80.
London Police Sgt. Jessie Williams and Officer Daryl Zanet were investigating a burglary on west Hwy. 80 when a white Dodge pickup was observed traveling on London Mt. View Drive. Due to all area businesses being closed at the time, officers initiated a traffic stop to investigate the purpose of the vehicle being in the area. During the stop, the driver, Pihota, provided officers with a Texas ID card that belonged to a deceased person.
Upon further investigation and with the assistance of Kentucky State Police Trooper Jason McCowan and his K9 Jinga, officers located 3.5 grams of black tar heroin, 3 grams of methamphetamine and several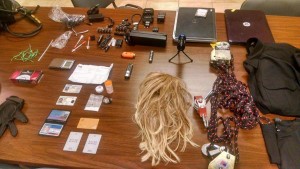 burglary tools, including a credit card scanner.
Both Pihota and Baker were lodged in the Laurel County Detention Center, and charged with possession of 3.5 grams of heroin, possession of 3 grams of meth, possession of burglary tools, tampering with evidence, providing an officer with a false name, and being a fugitive from another state.