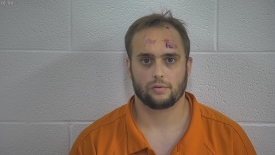 LONDON, KY -- On Sunday, September 27th at approximately 3:49 a.m. London Police were flagged down by employees at the Spur Oil on East 4th Street.  The employees advised that a patron left the store without paying for merchandise. Through investigation, Jordan Witt, 31, of London was arrested. 
Officer Drew Jackson located Witt sitting inside his vehicle while parked at the gas pumps. Upon the activation of Officer Jackson's emergency equipment, Witt fled from the scene at a high rate of speed. Officer Dillon Blair also activated his emergency equipment.
Witt drove towards Ofc. Blair's cruiser in an attempt to strike his vehicle head-on. Ofc. Blair swerved out of the way and Witt continued to flee from the scene. Corporal Troy Truett attempted to block Witt from entering the roadway with his cruiser so as not to endanger other civilians. Witt then collided with Cpl. Truett's cruiser. 
Witt continued to drive recklessly and evade police. Officers conducted a rolling roadblock on West KY-80 in an effort to stop Witt's vehicle. Once the vehicle was stopped, Witt, who was removed from the vehicle, became extremely combative and out of control.  Officers were able to gain control of the situation and placed Witt under arrest.
Officers assisting on-scene include Sgt. Travis Couch, Ofc. Andrew Jackson, Ofc. Joey Robinson and Kentucky State Police Trooper Jason McCowan.
Witt was charged with theft by unlawful taking under $500, five counts of first-degree wanton endangerment of a police officer, first-degree fleeing or evading police in a motor vehicle, operating a motor vehicle while under the influence, first-degree criminal mischief, possession of marijuana, speeding 19 miles per-hour over the speed limit, resisting arrest, and third-degree assault of a police officer.
Witt was transported to and lodged in the Laurel County Detention Center.