LONDON KY—On Monday, Jan. 25th at 6:55 a.m. London Police responded to a call regarding a jack-knifed tractor trailer on North I-75. The single vehicle accident then turned into an multiple vehicle accident with injuries and four adults were flown to the University of Kentucky Medical Center, while two were transported to Saint Joseph KentuckyOne Health in London.
Sgt. Daniel Robinson and Ofc. Jacob Bormann responded to the scene with emergency personnel, and through investigation discovered that the tractor trailer had passed I-75's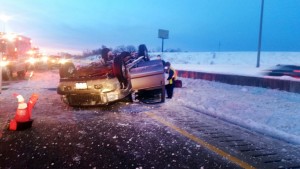 northbound Exit 41, hit a patch of snow, throwing snow across the roadway, and jack-knifed. Another tractor-trailer then collided with the first tractor-trailer in the right-hand lane of the interstate. Traffic on I-75 was then blocked. While traffic was being diverted to the off-ramp onto Russell Dyche Memorial Highway, a grey Ford
Excursion with six people was hit by a red Ford station wagon.
The Excursion then flipped, was thrown into the far left emergency lane, and one passenger was ejected. The Ford station wagon then hit the second tractor trailer and slid underneath it. The driver of the station wagon and tractor-trailers were not injured.
I-75's northbound lanes were shut down due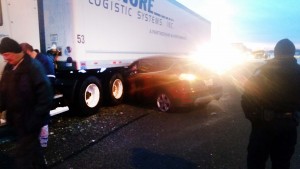 to the collision and the snow covering the road for approximately an hour. Three helicopters air lifted four from the Ford Excursion, and Ambulance Inc. of Laurel County transported two from the same vehicle to Saint
Joseph London KentuckyOne Health. No minors were involved in the accident.