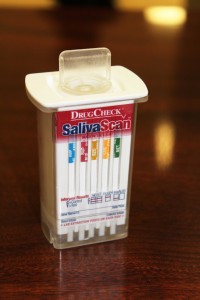 The London Police Department has teamed up with Operation UNITE to spearhead the "Give Me a Reason" drug prevention initiative. Through the initiative, drug test kits are now available for pick-up for FREE to parents at the London Police Department Mon-Fri 9am to 5pm.
These kits open the door for parents to begin a conversation about drugs, make it a teachable moment, and share information about the dangers of drug use.
The drug prevention initiative is a voluntary drug testing program designed as a way for our youth to avoid peer pressure and give them a reason to say "no" to drugs. When confronted with drugs, this initiative provides youth an opportunity to say, "I can't use drugs, my parents drug test me." The saliva-based SalivaScan testing kits are non-invasive that are given within the privacy of your own home with results in approximately 10 minutes.
The goal of the program is to help Laurel County's youth make positive life choices when faced with peer pressure.  Drug testing is a logical and simple way to hold children accountable to family rules concerning use or misuse of drugs – illegal, prescription or over-the-counter. Studies show that the earlier a teen begins using drugs, the more likely they will develop a substance abuse problem or addiction.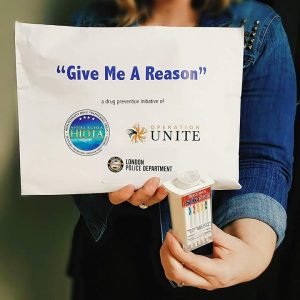 According to the National Council on Alcoholism and Drug Dependence (NCADD) research has shown that kids who have conversations with their parents and learn a lot about the dangers of drug use are 50 percent less likely to use alcohol and drugs than those who don't have those conversations.
The kit tests for a variety of drugs including Amphetamines (Adderall, Meth, and Ecstasy), Benzodiazepines (Xanax, Valium, and Roofies), Cocaine, Marijuana, Methadone, Methamphetamine, Opiates (Codeine, Heroin, Morphine, Oxycodone, and Hydrocodone), Phencyclidine (PCP) and Barbiturates (Tranquilizers). If a positive test result occurs, parents/caregivers are encouraged to contact a trusted health professional to determine the next course of action to take to seek help. A detailed list of free local resources to help is available at www.operationunite.org.
For questions about the free take-home kits call the London Police at (606) 878-7004 or visit the department at 503 South Main Street, London, KY 40741.